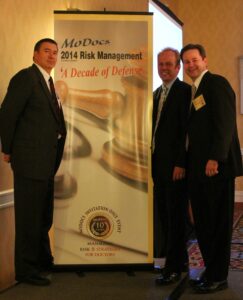 TAD ECKENRODE and Randall A. Baumann were featured speakers for MoDocs 2014 Risk Management Lecture Series held in Kansas City, Missouri. "A Decade of Defense" — The latest news, ideas, strategies, and recommendations for reducing your practice's risk and liability.
* Dismissals, Settlement and Verdicts – what do they all mean?
* Medication Monitoring – issues and errors
* Reptile Litigation Strategies invade medical malpractice cases.
* Tort Reform Update – what's happening legislatively and in the courts?